Rohtas Fort – Historical Beauty of Pakistan
Quoting Saint Augustine: 'The world is a book and those who do not travel read only a page'. To develop a broader sense of any culture be it your own or to learn about it, traveling is essential. Traveling to historical places is a source of authentic and valuable information of that specific region; moreover, you will be able to step out from the world of stated facts and experience the beauty of traveling in real.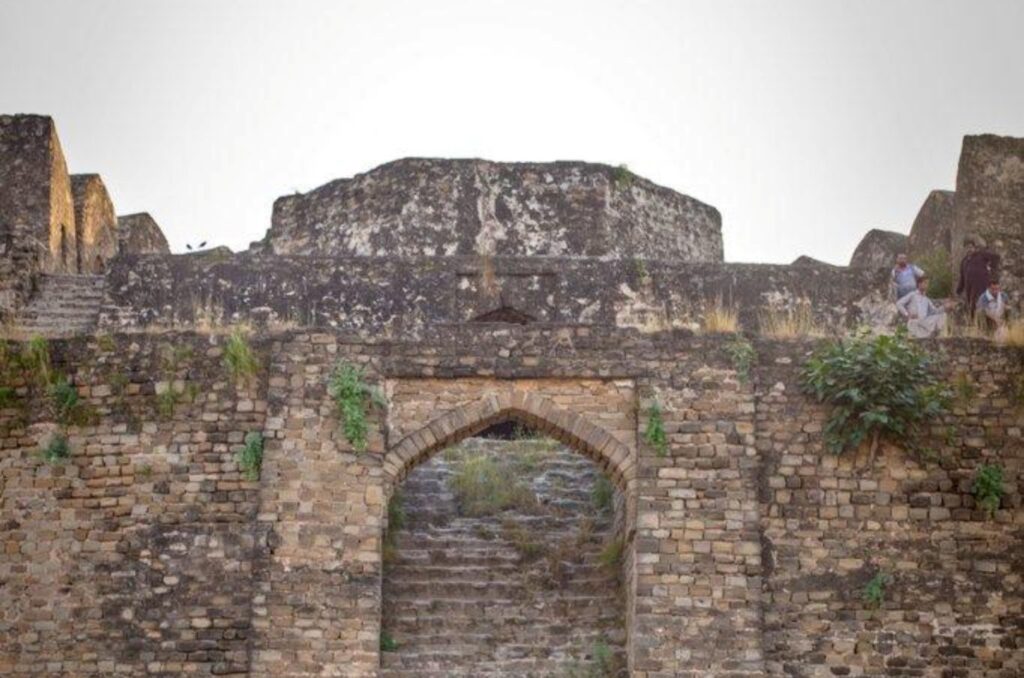 As soon as Imran Khan and his party took hold of the government in Pakistan, with other important issues one prime goal of the government was to promote tourism in Pakistan. in the last two decades, Pakistan had been badly affected by the war on terror which resulted in the gradual fall of tourism in Pakistan. Pakistan's current government put in their utmost effort to revive the dying trend of tourism, for this purpose many national and international vloggers and travelers were invited by the government to visit the historical places in Pakistan. This resulted in the rapid growth of tourism both in the southern and northern regions of Pakistan. Much focus was laid on many undiscovered tourist attractions. And collective efforts were put in to take care of the existing historical places.
Exploring Famous Place- Rohtas Fort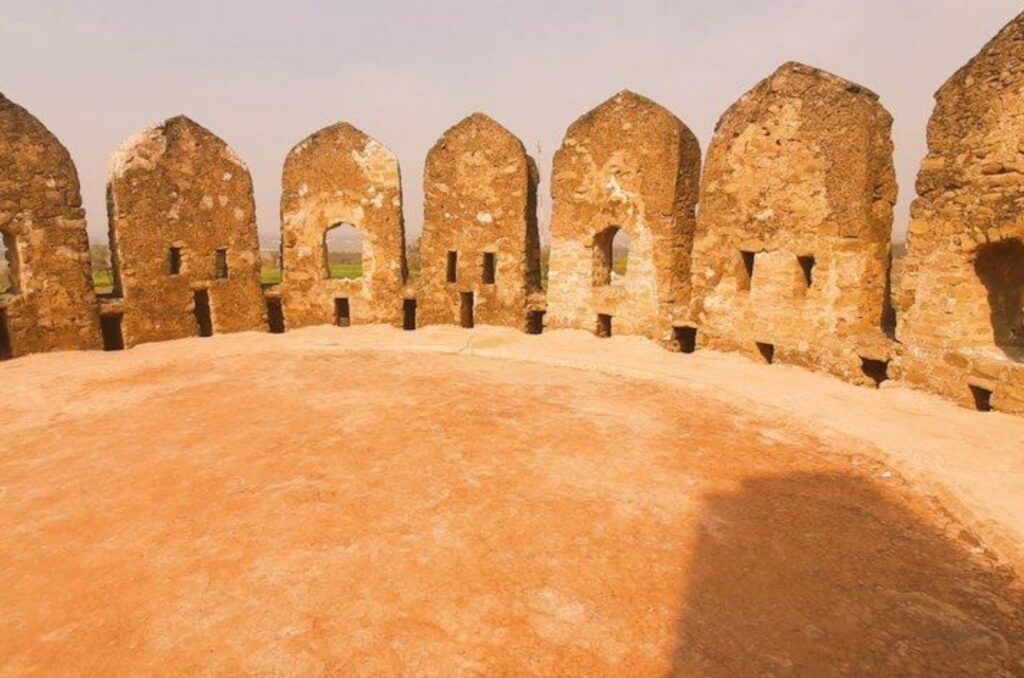 Being enriched with cultural heritage and historical beauty, Pakistan has always been the center of attraction for travelers and tourists. Exploring the history, the famous Rohtas Fort lists in the top 10 visiting places of Pakistan. Rohtas Fort locally and famously known as Qila Rohtas is not only a historical place rather it is included in world heritage sites of UNESCO since 1997. That's because Rohtas Fort is restored and maintained well by the authorities every passing year.
Location
Rohtas fort- Asian historical culture is a 16th-century fortress located near the city of Jehlum in the province of Punjab, Pakistan. Qila Rohtas is situated in the northwest of Jehlum near 7km from Dina. This garrison fort was built by Afghan king Sher Shah Suri at a strategic site which is now the northeast of Pakistan. The fort lies in between the famous GT road which links the mountainous region of Afghanistan and plains of Punjab.
Sher Shah Suri named it Rohtas after the known Rohtasgarh fort in Shahabad district near Baharkunda, Bihar which he captured from Raja Rohtas Hari Krishan Rai in 1539. Although Sher Shah Suri died before the completion of this massive structure fort, however, the completion took nearly eight years due to a lack of interest in Mughals because of its military architecture. Emperor Jahangir during his visit to Kashmir stayed there for a night and complimented about its location: "This fort was founded in a cleft and the strength of it cannot be imagined." Later the Sikh rulers used the fort for administrative purposes.
Sher Shah Suri – The Lion King
The greatest administrator and ruler of medieval India was the grandson of Ibrahim Sur and son of Hassan Khan. His original name was Farid Khan and was born in 1486 in Punjab. He was known to be the founder of short-lived yet the most courageous. Kingdom Sur, Afghans have ever produced. Sher Shah Suri was a man of surpassing personal excellence, a great and exemplary ruler, and the greatest Afghan leader ever. His valor, brave and rebellious attitude against Mughal Emperor resulted in overthrew of the Humayun government in 1540 and he ruled until his assassination in 1545.
Sher Shah Suri irrespective of his countless and selfless devotion to the battlefield, contributed a lot in setting up a new economic and military administration, Moreover, he set up the postal system of the Indian subcontinent. He also contributed to issuing a new currency Rupiya from Taka. He also contributed towards the construction and connections of roads.
Islam Shah son of Sher Shah Suri succeeded him. Mughal emperor Humayun defeated Islam Shah and ended the Sur dynasty. On the other hand, Mughal emperors were so impressed by Suri's strategies, that they used them later in ruling the subcontinent.
Eye-catching features that make Rohtas the top visiting site of Pakistan
The distinguishing feature and masterpiece of art that makes Rohtas different from all other forts across the globe is its triangular layout which is comprised of 4 km walls, sixty-eight bastions, and a dozen gates all made up of ashlar stones. So one needs plenty of time to cover or may require a good number of days to cover every aspect.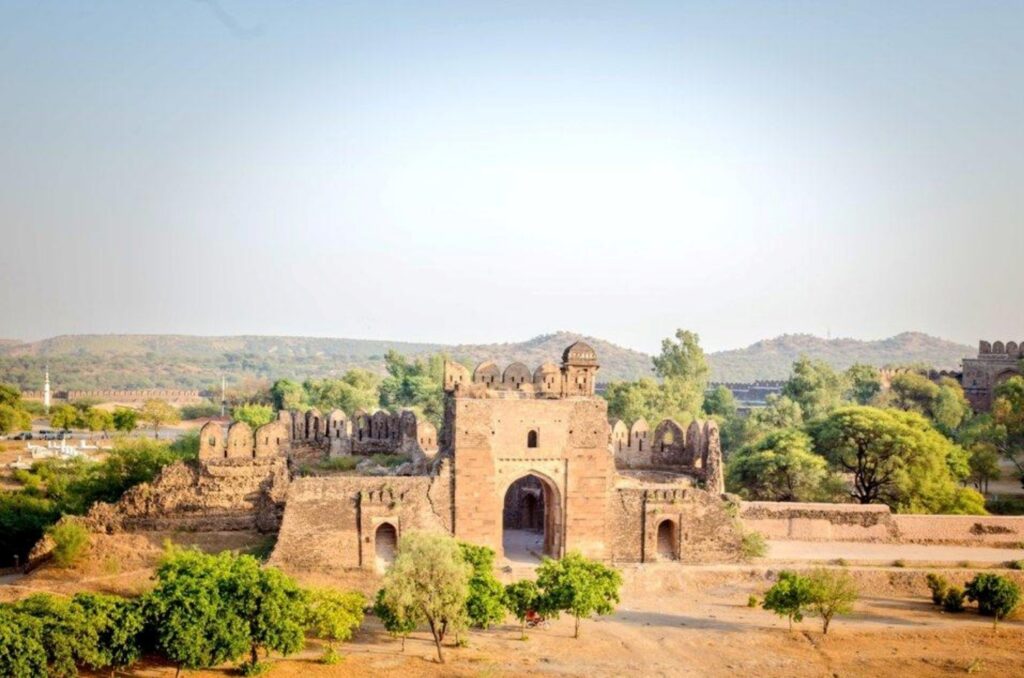 Iconic Rohtas Adding in Beauty of Pakistan
Rohtas being an iconic military architecture in central and south Asia adds in the beauty of Pakistan. Local tourists and travelers from all across the globe are attracted to the fort due to massive widely spread walled castles and gateways. School trips are arranged to transfer folk stories and cultural perspectives preserved inside the massive walled buildings.
Gates
At first look, the fort doesn't seem to be a man-made creation rather it looks more like wonder. Rohtas Fort has become the center of attraction for the tourists due to its unique structure and the long gateways. The fort has 12 gates made up of ashlar stone. The gate name Sohail Gate, Shah Chandwali Gate, Kabuli Gate, Shishi Gate, Langar Khani Gate, Talaqi Gate, Mori, or Kashmiri Gate, Khwas Khani Gate, Gatali Gate, Tulla Mori Gate, Pipalwala Gate, and Sar Gate.
A mosque is situated near the Kabuli gate; it is present and decorated in its most original form in the fort.
Rani Mahal
Although at the time of laying the foundation, four single-story room structures were standing parallel to each other, however, there remains only one structure standing right now. This structure is famously known as the Rani Mahal.
Maqbara Khair un Nisa
A lady named Khair un Nisa who was the daughter of food minister Qadir Bakhsh died and buried there and has a tomb outside Langar Khani gate.
Preserving the heritage
It's been centuries after centuries since fort's build-up, yet with each passing year, Rohtas Fort is becoming an eye-catcher for every tourist from across the globe. The one reason is that it is preserved in if not original, but the purest form. Natural calamities such as earthquakes, heavy rains did affect the infrastructure there but a round of appreciation must be given to authorities for restoring the fort in its original yet eye-catching form over and over again. The travelers definitely will feel to be in ancient times while exploring. A lot of folk stories and cultural heritage is transmitted from the local guides to the visitors in the form of stories attached to every nook and corner of the walled fort.